WHAT:
The "Active Communication Training in Vocational Education" (ACTIVE) project is a two-year Comenius project funded by the Lifelong Learning Programme of the European Community and involving seven countries.
Aim of the project is:
To promote key competences such as sense of initiative and entrepreneurship, cultural awareness and expression, communication in foreign languages, digital competence, sharing European values, learning to learn, civic and social skills.
To raise awareness of similarities and differences in the meaning of nonverbal communication in various cultures and to compare how different situations and nonverbal actions could be interpreted differently in various countries.
improve students' interest and skills in vocational subjects, especially of those related to interpersonal and business communication.
create an opportunity to acquire knowledge and competences concerning European citizenship.
broaden the horizons in terms of understanding foreign values, cultures and customs and instill tolerance towards other cultures.
develop learning competences such as communication, debating, critical thinking, looking for information, classifying, sharing and presenting information.
WHY:
The ACTIVE project was born with the aim to equip students with the necessary skills required to successfully enter the European job market, in which young people are expected to be able to establish successful interactions in international contexts.
In such a view, it has become vital to make students aware of the cross-cultural differences they might face when communicating with people from other countries. As well as linguistic competence, the proper use of non-verbal communication (NVC) has been shown to play a fundamental role in shaping appropriate models of conduct.
WHO:
There are seven partner schools in the project:
1) Liceum Ogólnokształcące w Lipianach, Lipiany (Polonia)
2) Ahmetli Anatolian High School, Manisa (Turkey)
3) School of Economics and Trade, Čakovec (Croatia)
4) Technical College "Andrei Şaguna", Oradea (Romania)
5) School of Finance and Management Intellect, Pleven (Bulgaria)
6) Lycée Général "Antoine Roussin", Saint Louis, (Ile de Réunion, France)
7) Liceo Ginnasio Statale "Nicola Spedalieri", Catania (Italy)
WHERE:
A twin system of mobilities has been developed: there are going to be three meetings organized by two partners each and held simultaneously. These meetings will be attended by two or three other partners.
In Italy – Poland and Turkey and in Reunion: Croatia, Bulgaria and Romania
In Croatia: Italy and Romania and in Bulgaria: Reunion, Poland and Turkey
in Romania: Poland and Reunion and in Turkey: Italy, Croatia and Bulgaria
Finally, there will be a concluding meeting in Poland that will be attended by all the other partners.
WHEN:
November 2013: in Italy and in Reunion
April 2014: in Croatia and in Bulgaria
October 2014: in Romania and in Turkey
May 2015: in Poland
HOW:
The objectives of the ACTIVE project are going to be achieved by means of team work, local and joint workshops, drama and role-play activities, debates, sharing experiences and knowledge, self-assessment, sessions with professionals, observations of business environment, evaluation tools as well as research work. The very diverse features of the group itself will provide the students with the essential practice in terms of intercultural communication.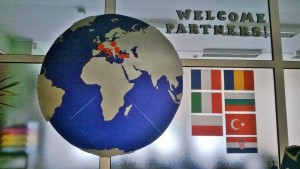 Communication is fundamental in our everyday lives and it is also important to produce effective communication, i.e. to convey on our reader's / listener's mind exactly the meaning we want to convey.
We are constantly in a process of communicating, either as SENDERS of messages or RECEIVERS of messages ….